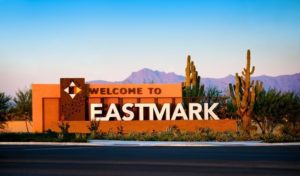 Eastmark is a 3200 acre (5 square miles) mixed use community.  Recreation is available at its 100 acre Great Park. The community is connected by major freeways with 202/101, SR-24 and I-60 3 miles away.  The community provides a 3000 sf community pool with toddler play pool, community center, Orange Monster Play Structure, splash Park and event pavilion.  When completed, there will be 15,000 residential units.  HOA fees are approximately $123/month.
Commercial space in Eastmark planned community includes a total of 20 million square feet of  non-residential property. The Gateway Employment Corridor has the most room for expansion of any of the metropolitan's areas employment corridors, with approximately 1000 acres of undeveloped commercial property, including retail, aerospace and aviation firms.  Currently nearby technology employers include Apple (1700 jobs), Boeing and Intel.  When Eastmark is completed there will also be 6000 hotel rooms.
The airport served 1.5 million passengers last year with 4 carriers.
Education includes Basis Mesa Sequoia Pathfinder, ASU Polytechnic Institute and seven other colleges and technical Institutes.
Demographics: The median age is 33.8%. 33% have a Bachelor's Degree and the Median Household Income is $81,313.
I would be honored to show you the available homes in the area that would meet your needs. Please call 480-226-1925 to schedule viewings in the area. You can also email me at [email protected].