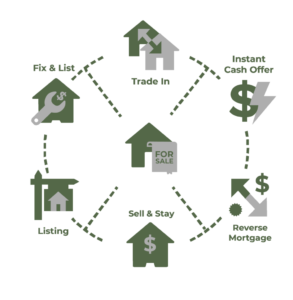 Sell your way. You have six ways to sell your home with Diana. Find Out What Your Options Are!
We know selling your home can be stressful! But a lot of people don't know that there is more than one way of selling your home. If you aren't sure which is right for you, we will help you find which one is right for you! Don't settle for a traditional sale when you might need something FAST.
Options with Diana in Selling Your Home
Your One-Stop Solution. We give You 6 options in selling your home:
We are here to assist you in selling your home. Whether you want to sell your home through a traditional listing, receive a cash offer, or sell and stay, trade in or Fix and List, we are here to hope. Your One-Stop location to sell your way!
If you think one of these might be the right option for you, then reach out! We are happy to help you figure out which one is truly best for you. PHONE: 480-226-1925 or [email protected]
If choosing a traditional listing, Pricing your home right is the first step to selling your home fast for top dollar. If a home is priced too high it sits on the market for too long.  Time is a killer. A property on the market too long becomes stale and buyers begin to wonder hat is wrong with the house. Typically when it does sell, it will get a lower price more. Homes sell for what current buyers are willing to pay and the buyers mortgage company will allow, which is dependent upon what an appraiser says the home's value is. Diana has been a Certified Real Estate Appraiser for three decades and excels at pricing a home to sell fast and at full value.
Diana Benson, powered by eXp Realty, provides an array of services not expected from the typical agent. She is there to handle all the small problems that may come up, whether it is a last minute maintenance item or having to meet the mover. She will be there for you to provide calm, care, and confidence for those who are selling their home, escaping to a more suitable home, or relocating to or from another state. 
Call/Text today for a free no obligation consultation at 480-226-1925 or email [email protected] or schedule at https://calendly.com/dianabenson/consultation We can have a safe virtual Zoom consultation from the convenience of your home.
How Can You Benefit by 3 Steps and 6 Options?
The 1st Step in selling your home is pricing it right. If a home is not priced right from the very beginning, you will typically get less for your home. Just like a piece of ripe fruit that has been sitting too long at the store. No one is interested in looking at it anymore. With over 25 years of appraisal experience you can be assured that your home will be price right, right from the start.
The 2nd Step is our aggressive marketing for buyers. We have buyers in waiting that have been prequalified and are ready to buy your home. They are enrolled in our Priority Access program.
The 3rd Step is making sure your home has maximum exposure. In fact, we will have your home on the 1st page of Google within a day or two. And with our Trade Up Program you do not have to wait for your home to sell. We will buy your home when you buy and finance your new home through us. Remove the stress of knowing when your home will close and if there were will not be any lastminute hold-ups.
Your home sold in 29 days or I'll pay you $1,000!
Diana guarantees that if she does not sell your house in 49 days from the day it was listed in MLS that she will pay the seller $1000 by reducing her commission by $1000 upon successful sale your property. A 3-month listing agreement is required. The listings price will be mutually agreed upon by the seller and Diana based on comparable sales and market conditions. The seller agrees sales representative's reasonable access to show the property. If the seller does not receive an offer at or above the agreed upon price within 29 days, Diana will reduce her commission by $1000.